The mid-range Vault, ideal for small teams and companies.
Intel® J3160, J3710, J4125, or J6412 Quad Core up to 2.7 GHz
Up to 8GB DDR3 RAM & up to 32GB DDR4 RAM
4 Intel® Gigabit Ethernet NIC ports, or 4 Intel® 2.5 Gigabit Ethernet NIC ports

AES-NI

coreboot supported

Fanless and Silent 
The 4 Port Vaults (FW4B, FW4C) come in the same chassis as our 2 Port Vault, but allow for additional ethernet connections. Like all Protectli Vaults, they are fully open source ready and operating system agnostic.
On the hardware side, they come with SSDs throughout and absolutely no fans, so you can place Vaults anywhere. 
The 4 Port Vaults are powerful devices and include plenty of ways to customize.
More performance data on the 4 Port Vaults:
Avg CPU Passmark Score – VP2420:
Single Thread Rating: 1392
4-Port Vault vs Vault Pro (VP)
The Vault Pro series is Protectli's new flagship platform offering additional functionality beyond raw performance:
Enhanced coreboot experience: Added security features (TPM Module, UEFI, netboot, vboot, measured boot and secure boot). Learn More >
New Generation hardware, ideal for virtualization and multi-use applications
Onboard eMMC for boot drive, USB-C high speed connectivity
M.2 SATA and SATA SSD storage options
The Vault is packed with features to ensure a solid network for you.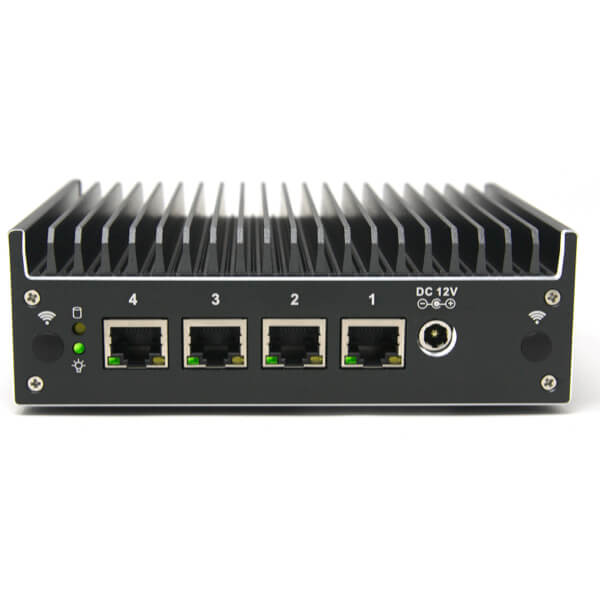 Get maximum security, transparency, and auditability from your hardware with optional open source device firmware. Select between traditional AMI BIOS or coreboot during configuration (available for FW4B Vault).  Learn More >
Simply add when configuring your Vault.
Introducing Protectli 4G LTE Service: Add a 4G LTE cellular modem with an Ethernet connection with support for Verizon or AT&T. This is excellent for WAN Failover so you never lose network connectivity again.
Protectli offers both an internal and external 4G modem to choose from. Ethernet connectivity allows the 4G LTE Modem to be installed remotely from the Vault for optimum cellular reception. We will install the SIM, configure and test the unit before shipping to ensure connectivity with either AT&T, Verizon or Carrier Switching (T-Mobile and AT&T). Learn More >
Uninterruptible Power Supply (UPS)
It could happen anytime and you want to be prepared: The Protectli Uninterruptible Power Supply (UPS) can provide hours of power to keep your Vault running in the event of mains power failure.  Prevent unexpected shutdowns and unintended data or OS corruption.  The Protectli UPS is fully compatible with all Protectli 4-Port Vaults. Learn More >
Free US Shipping on orders over $99. 30-Day Money Back Guarantee.
VP2410 – 4x 1G Port Intel ® J4125
Quad Core burst to 2.7GHz
AES-NI
up to 16GB DDR4 RAM
M.2 SATA SSD
8GB eMMC on-board
coreboot supported
VP2420 – 4x 2.5G Port Intel ® J6412
Quad Core burst to 2.6GHz
AES-NI
up to 32GB DDR4 RAM
M.2 SATA SSD
16GB eMMC on-board
coreboot supported
FW4B – 4x 1G Port Intel ® J3160
Quad Core burst to 2.24GHz
AES-NI
up to 8GB DDR3 RAM
mSATA SSD
coreboot supported
FW4C – 4x 2.5G Port Intel ® J3710
Quad Core burst to 2.6GHz
AES-NI
up to 8GB DDR3 RAM
mSATA SSD
coreboot supported
End of life / End of sale Vaults