Protectli Vault: The #1 Open Source based Firewall
A firewall that gives you complete control: Run any open-source software, OS or hypervisor on the Vault and secure your network your way.
US-Based Support | 30-Day Money Back Guarantee I Ships Worldwide
Built for network professionals and self-professed geeks like us.
The Vault is compact, 100% silent and always backed by our US-based support team:
Available as 2/4/6 Port models
Intel CPUs, Intel NICs & SSDs throughout
Up to 64GB RAM
Open Source BIOS coreboot available
Optionally, the Vault can be combined with the Protectli 4G LTE Modem for failover.
All Vaults are OS agnostic and support the popular open source firewall distros like pfSense, OPNsense, Untangle etc. Select OS are available to be preinstalled during configuration.
In addition, the Vault can be configured with the open source BIOS coreboot for maximum security, transparency, and audit-ability.
Select your model, then select & configure your Vault.
Protectli Vault – 2 Port (FW2B)
Small but mighty: Best for home users with few network connections.
Intel Dual-Core (Turbo 2.48GHz)
up to 8GB DDR3 RAM
AES-NI, mSATA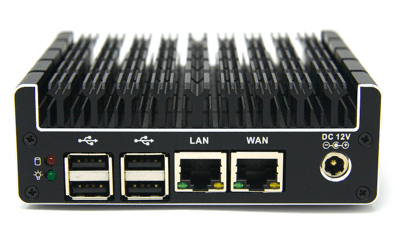 Protectli Vault – 4 Port (FW4B)
More ways to customize: Ideal for small teams & companies.
Intel QuadCore (Turbo 2.24GHz)
up to 8GB DDR3 RAM
AES-NI, mSATA 
Protectli Vault – 6 Port (FW6C)
More ports, more power: Use in medium to large teams/companies.
Intel i5 7200u (Turbo 3.1GHz)
up to 64GB DDR4 RAM
AES-NI, mSATA and/or 2.5″ SSD