#1 Appliance for Open-Source Software
US-Based Support | Free US Shipping on orders over $99 I 30-Day Money Back Guarantee
FW4C with 2.5G now available
Protectli has released the successor to the FW4B. The FW4C features 2.5G NICs, a faster CPU, and more. Buy Now >
Keeping Your Network Safe
The Protectli Vault helps thousands of network professionals and self-professed geeks like us to keep our networks safe.
All Vaults are OS-agnostic and support a variety of popular open-source software distributions. Do you want to run firewalls like OPNsense, pfSense, or others? We can do that. Do you need to run a hypervisor instead? Go for it! Protectli devices can even be preconfigured with an OS from our factory.
Simple. Clean. Secure: The Vault can be configured with coreboot, the open source BIOS for maximum security, transparency, and audit-ability. 
Compact, 100% silent and backed by our US-based support team: The Vault features Intel CPUs & NICs, SSDs throughout, and comes with up to 6 Ports. 
All Vaults ship with Intel network ports that are independently connected to the CPU with no built in switches.  The Vault Pro 4600 series even supports up to 2.5G network interfaces on all 6 ports.
New plans available! Never lose internet connectivity if you add the Protectli 4G LTE Modem for failover. Several service plans are available, or provide your own SIM.
One Appliance. Endless Applications.
Keep your network safe.
Install any software: All Vaults are OS agnostic and support a variety of popular open source software distributions like OPNsense, pfSense, and others. Optionally choose to have an OS preinstalled by us during configuration.
The Protectli Vault comes in different variations depending on your needs: Up to 6 Ports, 64GB RAM, 4.5TB SSD storage and more.
Small but mighty: Best for home users with few network connections.
Intel Dual-Core
up to 8GB DDR3 RAM
mSATA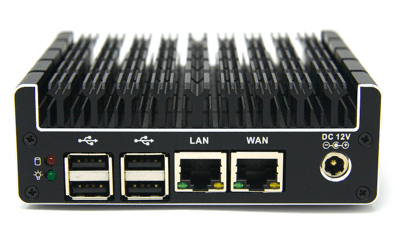 More ways to customize: Ideal for small teams & companies.
Intel QuadCore
up to 32GB RAM
mSATA / M.2
More ports, more power: Use in medium to large teams/companies.
Intel Celeron / i3 / i5 / i7
up to 64GB DDR4 RAM
mSATA and/or 2.5″ SSD
Every device goes through rigorous testing (configured modules, throughput etc.) before it leaves our facilities.
Designed & assembled in California, we are a call away if you ever need a repair or have any questions.
Have a question about your Protectli Vault? Our team of engineers are here to support if needed.
There is an extensive collection of resources to help you learn about the Vault, compare models, and get up and running quickly with your preferred operating system.