Last Updated On December 17, 2018
Note: Since this article was originally written, Untangle NG 14.1.0 has been successfully installed on the FW6 series of the Vault.

Untangle NG Firewall is a network security application. The home web site is at this link. Untangle NG version 13.1.0 has been successfully installed and deployed on the FW6 series of the Vault. Before installing Untangle NG, verify that the Vault has been equipped with the appropriate hardware. See the hardware requirements as published by Untangle at this link. The steps to download and install Untangle NG Firewall are below.
Download software from this link
Select "x86 64 bit" for the Target Platform
Select "ISO" for Image Format
Verify an uncompressed file of about 600 MB named "untangle_1310_x64.iso" or similar is downloaded
Create a bootable USB with the ISO image using Rufus or similar tool, see this link
Install the USB into an FW6 series Vault
Connect the Vault to the network via the WAN port that is connected to a network with DHCP enabled

Note: Untangle downloads files from the internet during installation

Power on and verify the Vault boots to the USB
Select "Graphical Install"
Select "Language", "Location", and "Keyboard"
Follow the prompts and on screen installation instructions to continue the installation and initial configuration
Verify Untangle is successfully installed
Verify the Configuration starts
When configuring Settings, in the Network Card table, note that the port named "External" with device "eth0" is the "WAN" port on the Vault. The port named "Internal" with device "eth1" is the "LAN" port on the Vault.
The default for the External port IP Address is DHCP
The default for the Internal port is static IP Address of 192.168.2.1 and is a DHCP server
Verify the configuration completes successfully
Select the default applications and verify that they are downloaded successfully
Verify the Untangle NG firewall dashboard is displayed on the monitor or console used for the installation
Verify that you can browse to 192.168.2.1 via the "Internal" or "LAN" port and login using the password assigned during the installation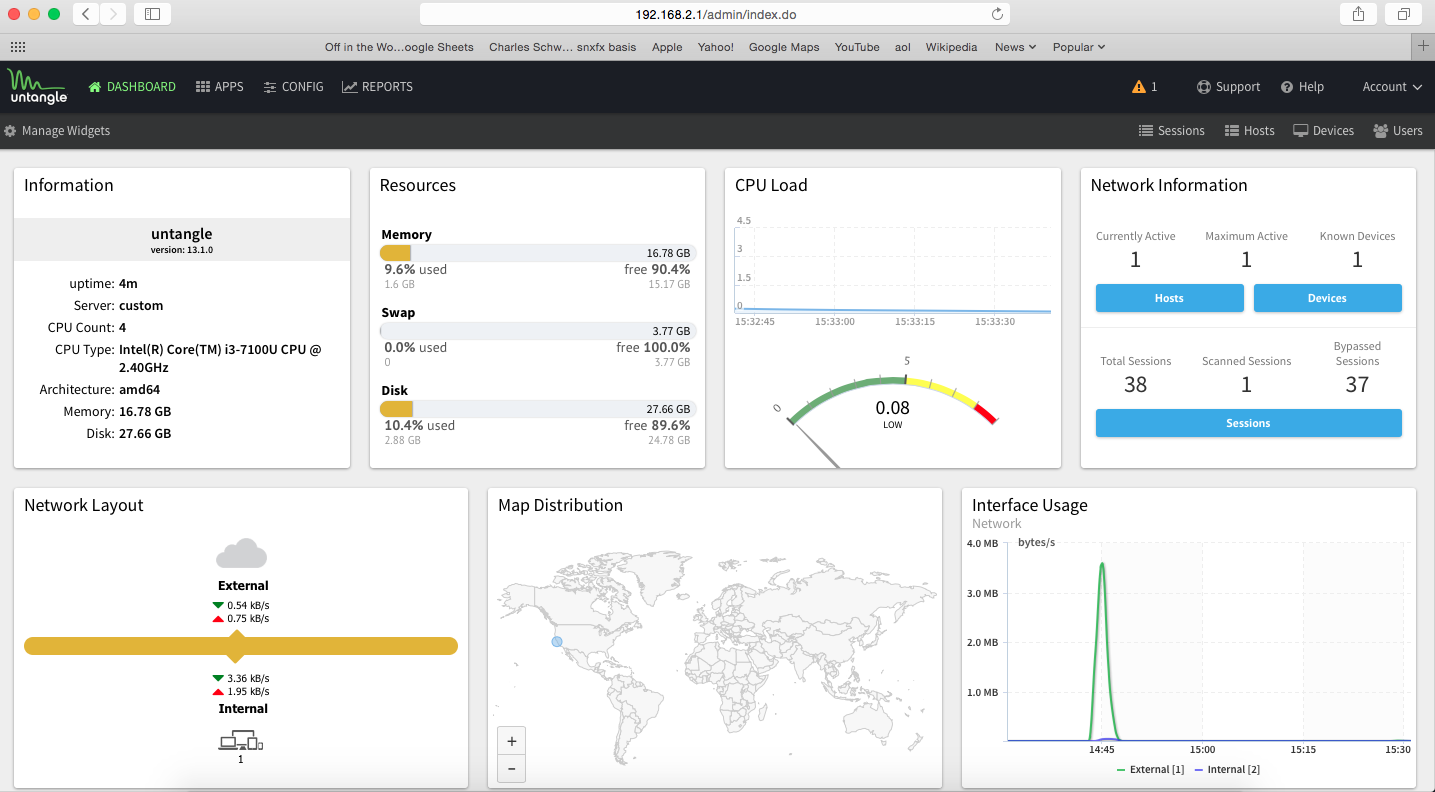 Untangle NG Firewall Dashboard
Information regarding Untangle NG performance can be found at this link.